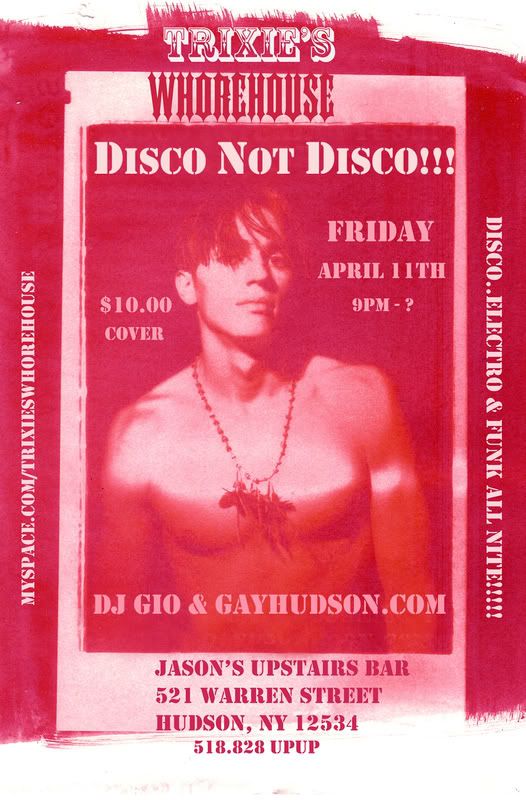 DJ Gio!!! and I are doing another party, Friday, April 11 at Jason's Upstairs Bar
Friday, April 11th
9pm
Jason's Upstairs Bar
521 Warren Street
The Hud
12534
$10 cover
Now, to get on the $5 admin list, all you have to do is join the GayHudson.com newsletter, see the link to the right, it's really easy. Join the list before Thursday, the 10th at 6pm, and you're on the list.
You only have to join once.
If you don't do it, then don't complain to me about the $10 admission fee.

I don't wanna hear it. Ya snooze, ya looze!

Got it?



Trixie's Whorehouse

is the best fucking party in this town. Gay, straight, whatever... That's why you should go.

It's totally worth the five bucks.

(Who says I need a PR person?)
And it's DJ GIO!!! 's birthday that day....so, pretend to be nice to him.

Oh yeah, and if you need something else to do that week, then you should go to the Red Dot on Tuesday, the 8th and see the film "Flirting with Disaster".


Flirting with Disaster

is often how I feel at the bar of the Red Dot on a Saturday night.
Don't shit where you eat folks.

That's my advice.