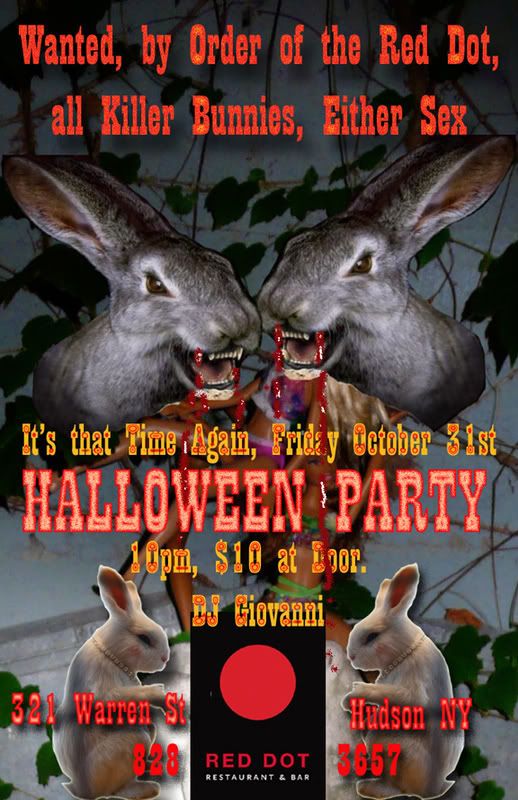 Dear Ms. Trixie Starr,
Please help me. I want to go to a party on Halloween. Where should I go?
By the way, I love your blog. You are my connection to the real world, a beacon of hope, and the light of my life.

Love,
Your Adoring Fan
************************************************
Dear Loser,
First of all, there's always a party under my skirt. You'll find more MAN and more WOMAN than you can handle!
On a separate note, don't ask me where to go. I don't know. Read the fliers posted on the Red Chopstick window. That's where I get all my information.
Most evenings, the best live entertainment is a Common Council meeting. You should go there.
Believe it or not, you can go bar-hopping in Hudson on Halloween. There will be more than one party.
pm
is doing "Witch/Bitch", a Halloween Party, the Red Dot is having a party - see the flyer above with DJ GIO!!, AND Jason's Upstairs Bar is doing a
Helloween
party with Melissa Auf Der Maur from Smashing Pumpkins (appropriate for Halloween)
Is that enough for you?
That's why I'm doing my party next weekend...Saturday, November 8th.
There's just TOO MUCH EXCITEMENT in Hudson this weekend!
I can't believe I'm writing that...
Hopefully, you'll be recovered from this Halloween weekend, and you'll want to go out again, to Trixie's Whorehouse, next weekend. Although for some of you, I know, going out twice in one month might be too much!
You might miss an episode of "Redecorate Your Home Like a Gay Couple" or whatever shit that's on TV now.
This Saturday, November 1st, buy your ticket to the Stageworks gala. There's a series of short one-minute plays and a dinner.
Yeah, $125/ticket. The plays and food better be good for $125. I mean, I got tickets to Xanadu on Broadway, half-price, and, that was the best fucking play ever made! They were singing AND roller skating, at the same time. C'mon, you want more? Xanadu is the best fucking play ever written!
I have no idea what to expect on Saturday. I think that's the way to approach this....
StageWorks/Hudson

*Fall Gala 2008!*

*PARTY WITH US...
**...and "be the event!"*

*Saturday, November 1st, 2008.*

Gala attendees submit a one minute play and Stageworks produces it
with professional actors at the benefit! Fine food and spirits and a
spectacular live auction round out the evening.

*Act I- Reception...**Setting: The Gallery at Stageworks/Hudson, 5:30 pm*

*Act II- Stageworks' spectacular live and silent auctions...**Setting: Max
and Lillian Katzman Theater, 6:30pm*

*Act III- Dinner is served...**Setting: The Gallery at Stageworks/Hudson,
7:00pm*

*Act IV- The Third Annual Stageworks One Minute Play Festival...**Setting: Max and Lillian Katzman Theater, 8:00pm*

*(One minute plays written by you, our gala guests, produced & performed by
Stageworks.)*

*Dr. Mark Fruiterman, Auctioneer / **(McDaris & Findysz), Silent Auction
Curator*

Tickets to the 2008 Fall Gala are $125 each.
To purchase tickets to the gala or for more information contact us:*
*By Phone: (518) 828-7843*
*By Email: contact@stageworkshudson.org*
The best fucking play ever written - Xanadu.

-Trixie